LIVESTREAM + stuffs
i finally got it to work without it kicking me out or lagging so much...
well on some days it does just that....
so here's my
LIVESTREAM
and i'll announcing when i'll be online on my
PLURK
which is linked to my
TWITTER
which will repost the plurk as a tweet...but with some delay i believe..and after i draw it i might upload it to by
BLOG
if i like it... if not ... meh might go into the scrap pile lol which i might post soon-ish?
[link]
---
Rundown and status in the RP groups i've joined....

sorta dead


MOD POWAH YEAAAH!!!


ALSO MOD POWAAAHH YEAAAAAHHH!


officially dead


also kinda dead

....
and hopefully the ever elusive



i swear.... i feel like it's telling me to not join lolol
that's what i get for creating a narcoleptic OC OTL
i can never wake up in time for the opening .....

---
commissions are still closed~~
i'll admit... i've been lazy this holiday season...
so commissions are closed till i finish this batch.....
... there... that's it XD
oh yeah happy holidays~





------
---
OUR BOOK
SALTED
IS FINALLY AVAILABLE ONLINE o/
PLEASE CLICK THE IMAGE FOR MORE INFO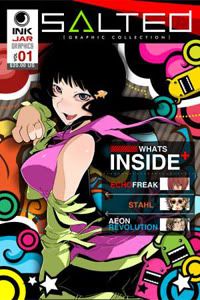 Manga Sized
Trade Paperback
Black & White
Page Count:
164
Contains the artworks of
=
Nokomento
~
RamLee
~
wickedmikel
*
wickedAlucard
Please check it out (ºoº)/