First of all i wanna say
THANK YOUUU ♥♥♥♥
too allllll those who greeted me on my birthday (Oct 23) !!!

alsoi'veneverseenmostofyouwhogreetedmegahdwhichiswhatshockedmemostLOOOOL
butiblamethebirthdaynotificationsontheleftsideofthemessagecenterlooool
BUT!! thanksss gaaaahhh
*rolls on floor*
i also gots birthday arts of Lucius!!! LOOOOLLLL
:thumb183660876:
:thumb183617792:

Thankssss so muchhhh

---
*cough* now on to other announcements~~
Hubby

finally opened his Underground Music based RP/art/music Group



hence Lucius in a
fashionable
weird outfit!*
looool anywaysss~~ The Group opens on Nov 6~! i think..... *reads again*
and *
kirej7
and I are collecting donations to turn it into a
SUPER GROUP
!!
anyways that's it for announcement 2...
JOIN!!!!
---
Now announcement 3 ~
I'll be gone for a few days~~ starting in.... half a day... .12 hours?
possibly to a place with no internet LOOOOLL
but i'll be back~~
and then i'll finish the
♪100 kiriban♪commissions
(don't worry..... none of the commissions left have paid yet~ so i'm not running away with monies MUAHAHAHA *cough*)
(also commissions will prolly open again at the end of november i guess... but for now it's closed ♥
♪other stuff
------------------------------
SO THERE~~ when i get back.... i wanna see some Soul Synth entries!!~~♥
eeeheeheeheee
*hangs Lucius here*
---
OUR BOOK
SALTED
IS FINALLY AVAILABLE ONLINE o/
PLEASE CLICK THE IMAGE FOR MORE INFO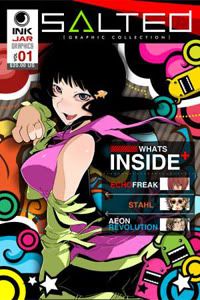 Manga Sized
Trade Paperback
Black & White
Page Count:
164
Contains the artworks of
=
Nokomento
~
RamLee
~
wickedmikel
*
wickedAlucard
Please check it out (ºoº)/